The Kelow­na Nec­tar Trail Project was a wild suc­cess! In the spring of 2017,
101 pri­vate homes, busi­ness, church­es, and schools in the Mis­sion neigh­bour­hood of Kelow­na signed on to sup­port­ing wild pol­li­na­tors by plant­i­ng and main­tain­ing a min­i­mum one-square meter gar­den of pol­li­na­tor-friend­ly flow­ers.
The Kelow­na Nec­tar Trail is a real­i­ty: a 7.4 km series of flow­ery step­ping stones through the south Mis­sion neigh­bour­hood that helps pol­li­na­tors move safe­ly through the urban land­scape. The suc­cess of the Kelow­na Nec­tar Trail was cel­e­brat­ed at the
Kelow­na Pol­li­na­tor Pic­nic
on Sun­day, June 25th at Sum­mer­hill Win­ery in Kelow­na. We were delight­ed to have an obser­va­tion hive brought by bee­keep­er John Gates, a won­der­ful bee art project cre­at­ed by artist Rhon­da Neufeld, and fab­u­lous live music by the Sun­day Morn­ing String Band.
Kelowna Nectar Trail Bee Ambassador Map
The Future
: Already two
OTHER
small Nec­tar Trails have been cre­at­ed: one across the
UBC
Okana­gan and one around Redlich Pond in Glen­more. We are hop­ing to encour­age the City of Kelow­na to take pol­li­na­tor con­nec­tiv­i­ty seri­ous­ly and expand the Nec­tar Trail through­out the City– for more infor­ma­tion on how you can become involved con­tact us at
[email protected]
Check out our video about the project here.
The Kelow­na Nec­tar Trail project host­ed four ses­sions in the spring of 2017 to learn more about plants and pol­li­na­tors and has vis­it­ed sev­er­al schools to talk to kids about bees and plants. See our
events page
to view these talks and workshops.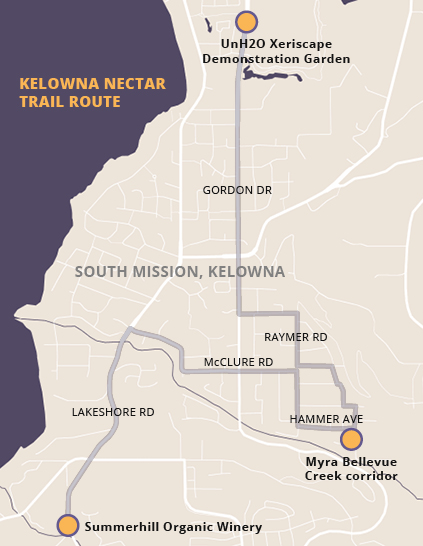 Nectar Trail Participants' Commitments:
Plant and care for a min­i­mum one-square meter bed of flowers.
Choose drought-tol­er­ant, pes­ti­cide-free flow­ers that bloom from spring to fall.
Leave bare spots for wild bees to dig and nest in.
Put up a sign that tells your neigh­bours what you're doing!
Bor­der Free Bees
is grate­ful for the sup­port of the Go Wild grant from the World Wildlife Fed­er­a­tion, to Hen­ri­et­ta Poiri­er for her inspi­ra­tion, and to Asia Jong for her hard work on this project. The Kelow­na Nec­tar Trail Ses­sions were sup­port­ed by the Okana­gan Region­al Library, the Okana­gan Xeriscape Asso­ci­a­tion, Seeds Co Com­mu­ni­ty Con­ser­va­tion, and Sum­mer­hill Win­ery.
THANK
YOU
FOR
YOUR
INTEREST
IN
JOINING
THE
NECTAR
TRAIL
!
REGISTRATION
IS
NOW
CLOSED
Project Sponsors