Wher­ev­er you are, you too can become a Bee Ambas­sador and join the move­ment to pro­tect wild pol­li­na­tors by cre­at­ing a bee-friend­ly zone on your property.
Over 300 homes, busi­ness­es, schools, and orga­ni­za­tions became Bee Ambas­sadors in Kelow­na British Colum­bia Cana­da between 2017–2018. But if you missed the chance or if you live out­side Kelow­na, you can now sign up — any where!
Pol­li­na­tors, respon­si­ble for 1 out of every 3 bites of food we eat, are in per­il due to pes­ti­cides, dis­ease, and loss of habi­tat. You can help save the bees. The solu­tion is as sim­ple as plant­i­ng food that bees need and cre­at­ing places for them to live.
Make the com­mit­ment. All it takes is one square meter of land, a hand­ful of seeds, and a lit­tle love for plants and pollinators.
If you can make the fol­low­ing com­mit­ments, become a Bee Ambassador:
Plant and care for a min­i­mum one-square meter bed of rec­om­mend­ed bee-friend­ly flow­ers on any prop­er­ty you man­age or own.
Choose pes­ti­cide-free plants which bloom from spring to fall and that are native to or appro­pri­ate to your region.
Leave bare spots for wild bees to dig and nest in.
Put up a sign vis­i­ble to the pub­lic (down­load below)
Com­mit to telling neigh­bours what you're doing and get one or two more peo­ple to jump on board.
Put your gar­den on the map for the Mil­lion Pol­li­na­tor Gar­den Challenge!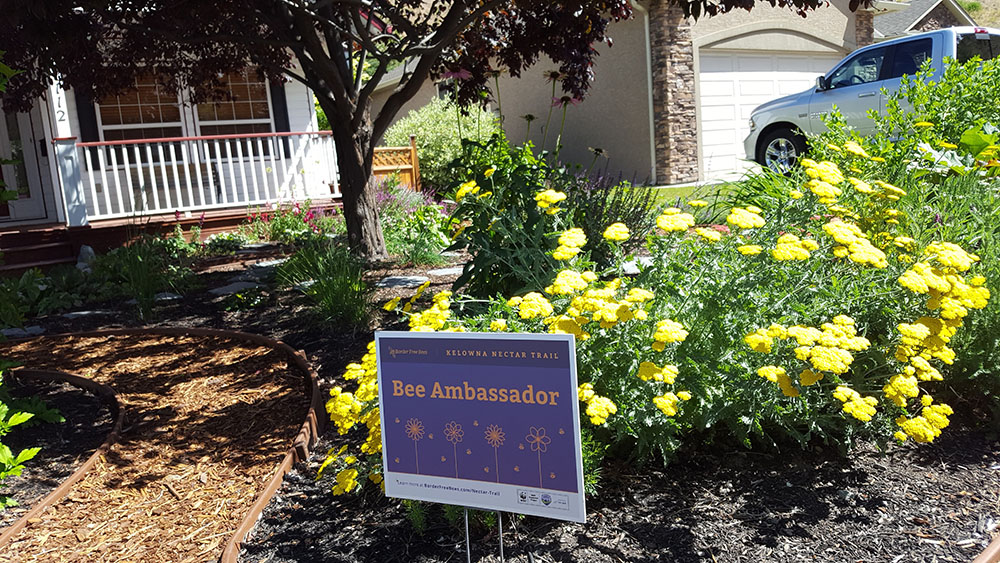 Bee Ambassador Sign
Bor­der Free Bees is pleased to pro­vide a sign for you to dis­play. You may choose a sign in any of three lan­guages: Eng­lish, French or Spanish.
PRINTER-READY

:

You may choose to down­load a file that you can take to a print­er. Ask the print­er to pro­duce a dou­ble-sided 8 X 10 sign on cor­plast that comes with a lawn stake.
DO-IT-YOURSELF

:

Or, you may choose to down­load a file that you can print on your own colour print­er. You should lam­i­nate it and post it on a gar­den fence or stake.
Other Resources
Please look at our Resources page to find a vari­ety of help­ful pub­li­ca­tions, tips and advice about how to cre­ate a bee par­adise on your prop­er­ty. Resources include a Mason Bee Home Fact Sheet, Bum­ble Bee Guide, Gar­den­ing Tips, and Bee ID Infor­ma­tion, includ­ing a link to our Insight Cit­i­zen Sci­ence Bee ID App.