Bumble Baskets
A Par­tic­i­pa­to­ry Eco-Instal­la­tion Offer­ing Sanctuary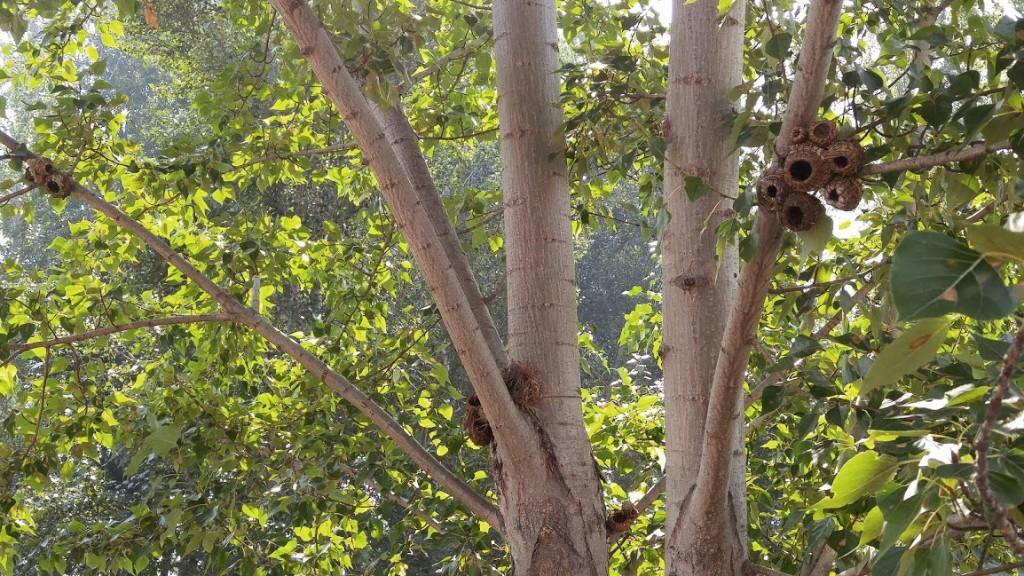 In August 2017, com­mu­ni­ty mem­bers came togeth­er over 6 ses­sions to use plant mate­ri­als found on site or near­by. Evenings and week­end morn­ings were spent sit­ting in the pas­ture, learn­ing coil-bas­ketry tech­niques, lis­ten­ing to live music, and shar­ing sto­ries about our rela­tion­ship with the land – offer­ing a breath­ing moment and place of respite. Inspired by learn­ing that aban­doned Bum­ble­bee nests are sanc­tu­ary for 250 oth­er species, the result­ing works are sculp­tures evoca­tive of these nests, placed in a Cot­ton­wood tree over­look­ing the pol­li­na­tor pas­ture and apiary.
Lead Artist: Jaymie Johnson
Mate­ri­als: Poderosa Pine nee­dles, Okana­gan wild grass­es, Sting­ing Net­tle fibre, Himalayan Black­ber­ry Fibre, etc.
Final Installation
Acknowledgment and Gratitude to:
Sharon Kallis – Artist Men­tor and Guest Artist
Nan­cy Holmes – Com­mu­ni­ty Liai­son and Project Advisor
Fion­ncara MacEoin — Assis­tant Com­mu­ni­ty Liaison

Guests, Artists, and Musicians
Nils Loewen
James J. McEwan
Leila Neverland
Maiya Robbie
Annabel Stanley
Krys­tal Lezard of the Syilx Nation
Community Makers
Pip­pa, Mau­reen, Robin, Emma, K.J., Lin­da, Yuhi­ro, Loret­ta, Lau­ra, Jean­nette, Alek­san­dra, Denise K, Mae, Rhon­da, Stephanie, Christo­pher, Jen­nifer, Denise K, Haley, Cur­tis, and Tanis.
Workbees
This com­mu­ni­ty art project at the Brent's Grist Mill Her­itage Park pas­ture is inspired by Jaymie's work with men­tor­ing artist Sharon Kallis at the Rich­mond Pol­li­na­tor Pas­ture in 2016. In col­lab­o­ra­tion with Bor­der Free Bees and Eart­H­and Glean­ers Soci­ety, this event series is pre­sent­ed by the Uni­ver­si­ty of British Colum­bia Okana­gan, in part­ner­ship with Emi­ly Carr Uni­ver­si­ty of Art + Design and the City of Kelowna.