The Kelowna Nectar Trail Project was a wild success! In the spring of 2017, 101 private homes, business, churches, and schools in the Mission neighbourhood of Kelowna signed on to supporting wild pollinators by planting and maintaining a minimum one-square meter garden of pollinator-friendly flowers. The Kelowna Nectar Trail is a reality: a 7.4 km series of flowery stepping stones through the south Mission neighbourhood that helps pollinators move safely through the urban landscape.
The success of the Kelowna Nectar Trail was celebrated at the Kelowna Pollinator Picnic on Sunday, June 25th at Summerhill Winery in Kelowna. We were delighted to have an observation hive brought by beekeeper John Gates, a wonderful bee art project created by artist Rhonda Neufeld, and fabulous live music by the Sunday Morning String Band.
Kelowna Nectar Trail Bee Ambassador Map
The Future: Already two OTHER small Nectar Trails have been created: one across the UBC Okanagan and one around Redlich Pond in Glenmore. We are hoping to encourage the City of Kelowna to take pollinator connectivity seriously and expand the Nectar Trail throughout the City– for more information on how you can become involved contact us at info@borderfreebees.com
Check out our video about the project here.
The Kelowna Nectar Trail project hosted four sessions in the spring of 2017 to learn more about plants and pollinators and has visited several schools to talk to kids about bees and plants. See our events page to view these talks and workshops.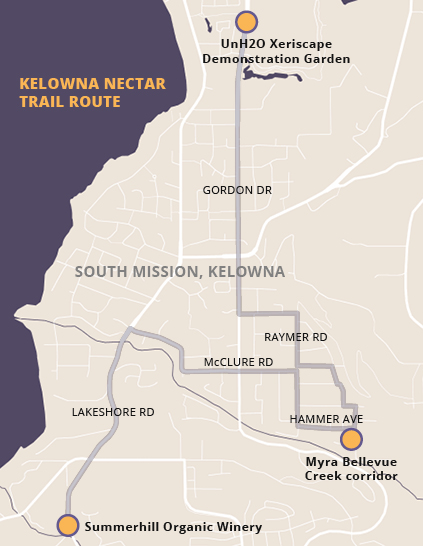 Nectar Trail Participants' Commitments:
Plant and care for a minimum one-square meter bed of flowers.
Choose drought-tolerant, pesticide-free flowers that bloom from spring to fall.
Leave bare spots for wild bees to dig and nest in.
Put up a sign that tells your neighbours what you're doing!
Border Free Bees is grateful for the support of the Go Wild grant from the World Wildlife Federation, to Henrietta Poirier for her inspiration, and to Asia Jong for her hard work on this project. The Kelowna Nectar Trail Sessions were supported by the Okanagan Regional Library, the Okanagan Xeriscape Association, Seeds Co Community Conservation, and Summerhill Winery.
THANK YOU FOR YOUR INTEREST IN JOINING THE NECTAR TRAIL! REGISTRATION IS NOW CLOSED
Project Sponsors