Developed by Cameron Cartiere and Nancy Holmes as a working methodology, the Public Art Pollinator Pasture is a public art-driven wild flower meadow that benefits a multitude of essential pollinators (including bees, butterflies, and birds) and empowers communities to be ecological ambassadors and citizen scientists.
The creation of a habitat for threatened wild pollinators is essential to these species' survival and, ultimately, the sustainability of the wider ecosystem. In addition to its environmental impact, the Pastures will also encourage environmental awareness and sustainable behaviour. While the average person may feel powerless to stop the dramatic decline of the pollinator population, there are, in fact, simple and effective ways to contribute to their sustainability. The Pastures will encourage communities to take an active role in the habitat solution, while at the same time meeting public safety, beautification, and lifestyle improvement needs for those who utilize the site.
The Pastures promote and contribute to environmental sustainability at both ecological and community levels by creating sustainable habitat and ecosystem renewal for threatened wild pollinators in the region. The environmental impact of the project will be scientifically measured through Border Free Bees' partnerships with notable academic researchers at Universities such as Emily Carr, Simon Fraser, Thompson Rivers, and Dalhousie.
The Kelowna Pasture
The Public Art Pollinator Pasture is a venture to link art, science, and innovative community involvement to address problems related to food security (for humans and for bees), land use, and pollinator population collapse. In Kelowna, we are also deeply interested in water scarcity issues especially as they relate to plants and their essential collaborators, native bees.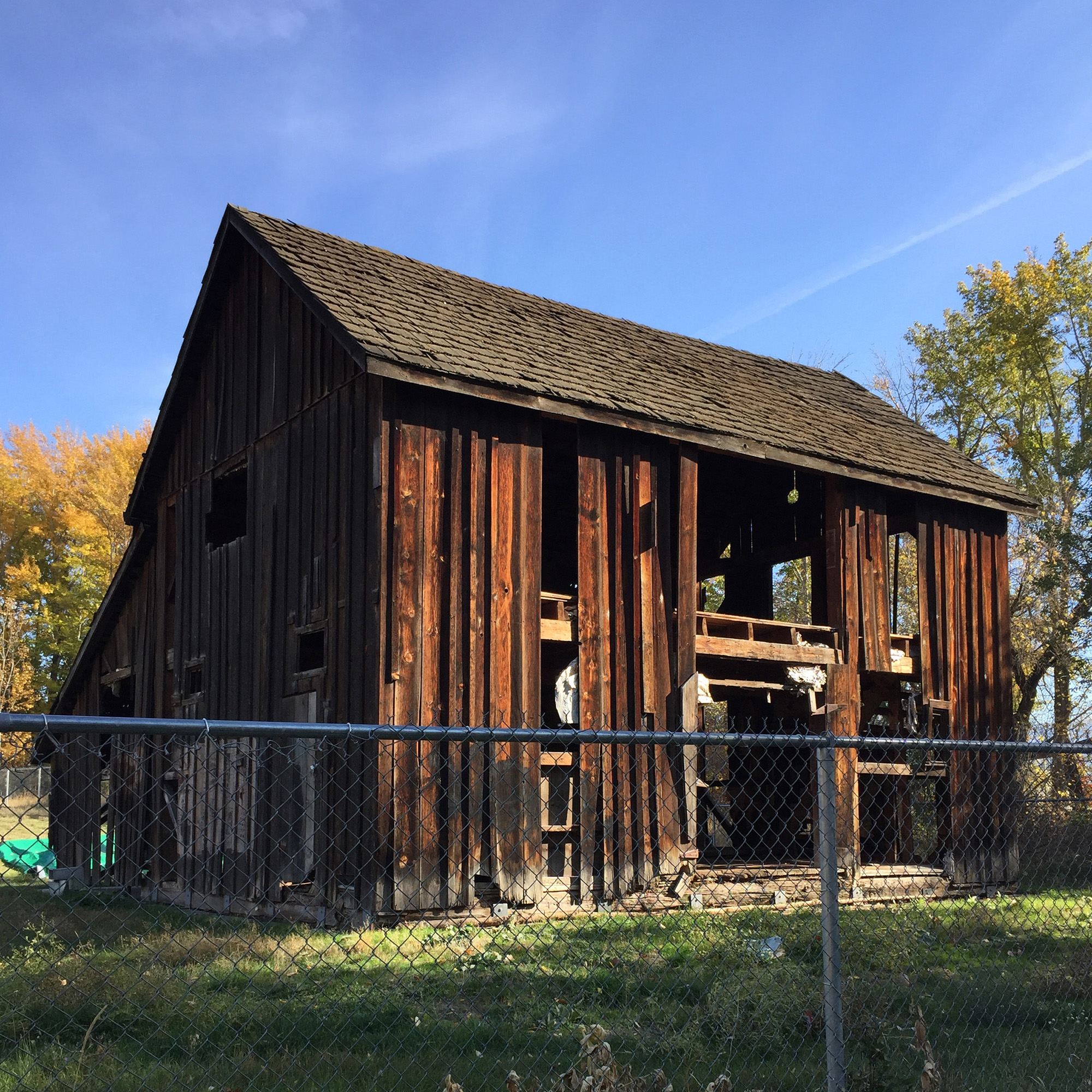 The Kelowna Public Art Pollinator Pasture is on City of Kelowna property at the Brent's Grist Mill Heritage site near the corner of Leckie and Dilworth roads in the heart of Kelowna. This site houses Brent's grist mill, the oldest agricultural-industry building in the Okanagan and oldest grist mill in British Columbia. The site also has a precious creekside ecology with numerous native plants as well as invasive species.
Our goal is to make the Kelowna pasture friendly to native bees and to make it as water-friendly and ecologically-healthy as possible, while integrating human and cultural histories and activities. Our goal is to make the site a place that offers sanctuary to threatened native bees and other pollinators, as well as that creates a site for community sharing of information and knowledge about place, heritage, insects, soils, land, and plants.
Stay up to date with this project by following the Kelowna Public Art Pollinator Pasture Facebook page.
The Kelowna Public Art Pollinator Pasture project needs a diverse group of community friends, supporters, partners, and helpers to make this a reality. If you are interested in contributing, please contact UBC Professor Nancy Holmes. We are grateful for the contributions of the following local partners and businesses:
The Kelowna Public Art Pollinator Pasture project needs a diverse group of community friends, supporters, partners, and helpers to make this a reality. If you are interested in contributing, please contact UBC Professor Nancy Holmes. We are grateful for the contributions of the following local partners and businesses:
Local Partners Okanagan Xeriscape Association Master Gardeners of the Okanagan Seeds Co Central Okanagan Heritage Society
Supporters Winn Rentals RONA Home & Garden Kelowna Buckerfields The Greenery Art Knapp Kelowna
And many wonderful community volunteers.
Community Curriculum: Creating a Pollinator Pasture Together
A dedicated group of people in Kelowna have met, talked and got their hands dirty to collaborate on creating the Brent's Grist Mill Pollinator Pasture. Our goal has been to co-generate knowledge for our community to help pollinators and pollinating plants in a dryland ecosystem.
By bringing together multiple perspectives and collective experience we are creating a pollinator habitat on a 6000 square foot couch-grass invaded piece of land in a dryland climate with no water! Our group of experts come from a variety of fields (from art to gardening to ecology) to form a core thinking and guiding team. We have set up a one-year plan for the development of the pasture.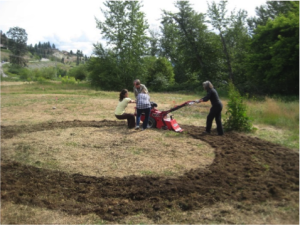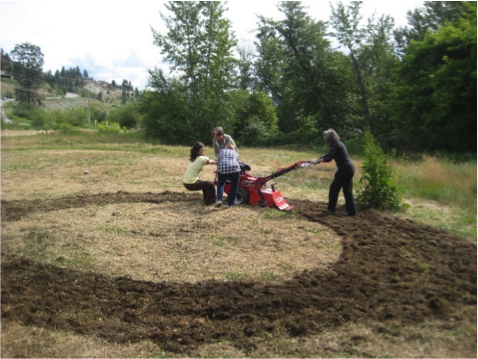 Creation of Experimental Circles: While the eventual goal is to plant the entire pasture area with native and naturalized seed beneficial to a broad range of pollinators, we have to prepare the highly disturbed land. We decided to experiment with four different ways to prepare the site for planting to see which methods of soil preparation will be most congenial to seeds and plants. Haruko Kagami plotted four 500 square foot circles on the site in the stylized pattern of bumble bee nests and plotted them using satellite photos that indicated similar "green" cover so there would be a baseline consistency of water retention in the soil.
At the end of May 2016 we prepared the circles in the following ways: Circle 1– sheet mulched (with cardboard and mulch- mulch donated by City of Kelowna Waste Management branch and cardboard from several bike shops in town); Circle 2– tilled (with a rototiller donated by Winn Rentals); 2); Circle 3– black plastic cover (lumber wrap donated by Home Hardware in Armstrong); Circle 4– clear plastic cover (donated by Gwen Steele).
This fall the circles were prepped for planting with some soil added (donated by Art Knapps.) Each circle was planted with a similar mix of both seeds (donated by SeedsCo and Wild Blooms) and plants (donated by the Wild Blooms nursery and several grown by OMG and OXA volunteers) as well as plants from a SeedsCo. The Greenery donated meadow sage and lavender. We also intend to nurture some bee-friendly plants that exist on the site already- particularly a kind of catmint, Oregon grape, and yarrow. The main seeds and plants include the following species (colour and bloom time of the flowers appear with the species info), all from Dr. Elle's list of good bee plants for here:
Pussy-toes (Antennaria dioica 'Rubra')- white (May: short plant) Thread-leaf Fleabane (Erigeron filifolius)- white, blue, pink (May- June) Slender Hawksbeard (Crepis atribarba)- yellow (late May- July) Parsnip-Flowered Buckwheat (Eriogonum heracleoides)- white/cream (June- July) Brown-eyed Susan/ blanketflower (Gaillardia aristata)- yellow/brown (June –September) Showy Aster (Aster conspicuous)- purple/ pink (June –October) Yarrow (Achillea millefolium)- white (June and August) Pearly Everlasting (Anaphalis margaritacea)- white (August)
We will see how the plants and seeds thrive in each circle in the spring and proceed with a large scale meadow-building in the spring of 2017 based on the results of our experiment.
Community Curriculum Team: Rachel Fleming Tanis Gieselman Nancy Holmes Megan Hunter Haruko Kagami Denise Ketler Maureen Lisle Lori Mairs Loretta Muir Evan Rafuse Gwen Steele Rebecca Tyson Elana Westers