Help Us Create A Nectar Trail!
Britain's doing it. Norway's doing it. The U.S.A. is doing it. Vancouver's doing it. Kelowna can do it too and it begins right here with you! Bee streets, pollinator pathways, and sweet nectar trails are being planted by concerned citizens across the planet, but Kelowna doesn't have one – yet! However, that is about to change. The UBC art project, Border Free Bees, is inviting people who live in the lower Mission neighbour of Kelowna to join The Kelowna Nectar Trail Project. All it takes is one square meter of land, a handful of seeds, and a little love for plants and pollinators. AND to help people who want to save the bees, Nectar Trail "wannabees" and anyone else in the community are invited to attend the following free workshops as part of The Kelowna Nectar Trail Sessions.
Growing Water-wise Plants for Pollinators in the Okanagan
Saturday March 4th, 10am-12pm
Eva Antonijevic (Okanagan Xeriscape Association)
Okanagan Regional Library Mission Branch, 4105 Gordon Drive, Kelowna BC
Register at https://growingwaterwiseplants.eventbrite.ca
Bee-coming a Part of the Solution: Gardening with Native Species for the Nectar Trail
Saturday April 1st, 1-4pm
Tanis Gieselman, MSc. (SeedsCo. Community Conservation, OCCP)
Okanagan Regional Library Mission Branch, 4105 Gordon Drive, Kelowna BC
Register at https://gardeningwithnativespecies.eventbrite.ca
Growing Without Pesticides: A Biodynamic Approach
EarthDay – Saturday April 22nd, 1-4pm
Gabe Cipes (Summerhill Winery)
Summerhill Winery Biodynamic Gardens, 4870 Chute Lake Road
Register at https://growingwithoutpesticides.eventbrite.ca
Bee ID Workshop & Introduction to Pollinator Citizen Science App
Saturday May 13th, 1-4pm
Erin Udal & Geoff Campbell (Border Free Bees)
Okanagan Regional Library Mission Branch, 4105 Gordon Drive, Kelowna BC
Register at: https://pollinatorcitizenscienceapp.eventbrite.ca
Watch for The Pollinator Picnic in June 2017!
The Kelowna Nectar Trail is funded by Telus's Go Wild Community Grant program as well as Border Free Bees and the Public Art Pollinator Pasture research projects at UBC. The Kelowna Nectar Trail Sessions are supported by the Okanagan Regional Library, the Okanagan Xeriscape Association and Summerhill Winery.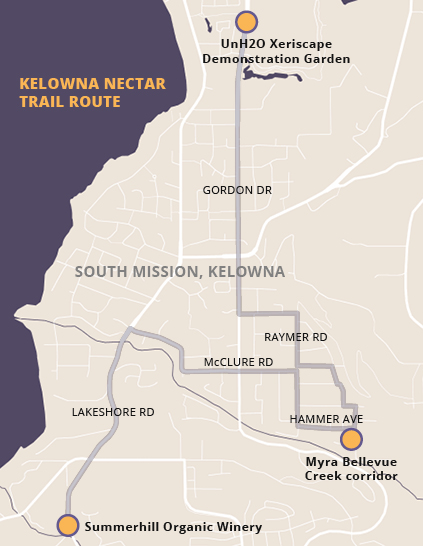 What Is A Nectar Trail?
A series of flowering patches spaced between 100 and 200 meters apart that helps pollinators move safely through an urban landscape. Conserving and creating habitat for pollinators is central to the health of wild bee populations by providing food, shelter and opportunities for genetic diversity.
What Is The Kelowna Nectar Trail?
A 7.4 km series of flowery stepping stones through the south Mission neighbourhood. The nectar trail will link 3 places rich in wild bee populations – the Summerhill Organic Winery, the Myra Bellevue Creek corridor, and the UnH2O Xeriscape Demonstration Garden. Our goal is to find 70 homes, schools, businesses, gardens, farms, churches and shops along the route.
If You Join Us, You Will…
Have a spot on our online map as a Bee Ambassador.
Receive a Bee Ambassador Package that will include signage, planting advice, tips for caring for and identifying wild bees, and gifts or discounts from our sponsors.
Be invited to a series of free workshops and events to learn about pollinators, plants, and how to create bee-friendly patches.
Be a VIP at an event to celebrate the launch of the Kelowna Nectar Trail.
Nectar Trail Commitment
Plant and care for a minimum one-square meter bed of flowers.
Choose drought-tolerant, pesticide-free flowers that bloom from spring to fall.
Leave bare spots for wild bees to dig and nest in.
Put up a sign that tells your neighbours what you're doing!
Project Sponsors

Sign Up To Participate In The 2017 Kelowna Nectar Trail
Provide us with your contact information below and we will send you a Bee Ambassador Package including everything you need in order to participate in the nectar trail.